Drake Cameron Review
Ranking
Price
$ 10.95
$ 19.95
Information
March.11, 2010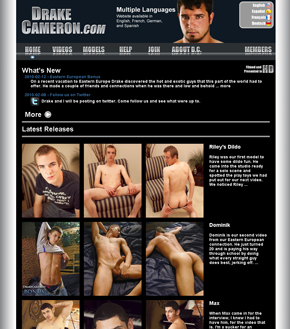 The Review
Drake Cameron is a fairly new site, having first come online in the fall of 2009. Amateur men jerk off alone for the most part inside, with 1 exception that I can see where two hunks masturbate side by side. In my personal opinion, the men range from average in looks to very good looking. Some could be considered twinks, while a few have a tough look to them and then again, some are just downright gorgeous hunks. Currently there are 25 models in total. Each has at least one video and a set of matching photos and average to very good quality digital stills. The videos are available in 4 formats, several bitrates up to excellent quality and all are downloadable. All content inside Drake Cameron is 100% exclusive to the site and DRM is not used on the videos.
The members area of Drake Cameron is a mirror image of the tour. The main menu runs at the top of each page, with the latest following videos and then linked thumbnails and brief descriptions leading to the latest 3 videos on the main page. Members can get more information on each man in the Models section, and of course, get to the videos from the Videos link. The videos are not listed by the dates they were added, so I can't tell you when the last update came in. There are no ads inside Drake Cameron and navigation is very simple. Drake Cameron is available in multiple languages: English, German, Spanish and French.

At the time of this review, there are 26 exclusive videos inside Drake Cameron featuring 25 models in total. The video previews are listed 6 to a page across 5 pages. Each video page contains a description of each model and their shoot, a streaming interview of each man and several download and streaming links. Members may stream each video in flash in a larger 1280x720 version, or a smaller HD version, as iPod streaming M3U8 (which I wasn't able to play personally), a 1920X1080 wmv at a bitrate of 6 Mbps, and a Quicktime version at a bitrate of 8 Mbps at the same screen resolution as the wmv option. There are also a few smaller versions of each format as well. All videos were of quite good quality, with the highest bitrates versions exceptional. Keep in mind that older computers may not be able to play the highest quality videos properly. If that is the case, choose a lower bitrate for download, as these are still very good quality. The action ranges from pretty good to very hot, depending on whether a model chooses to use a dildo or get quite active during his shoot. DRM is not used on any of the downloadable or streaming videos inside Drake Cameron.

With each model's shoot there are both good quality photo galleries and average to good quality digital stills. Both types of imagery can be viewed in a flash gallery or downloaded in zip files. An average of 14-20 images are featured in each set. The photos are all in a portrait format and come at a size of 1000x1500, with the digital stills at a size of 1000x583. I don't find the action captured very well in the stills. The stills are a bit too softcore for me and the stills don't capture those great moments from the videos.

The men at Drake Cameron range in looks - in my opinion - from average to very good looking. Some would be considered twinks, some hunks, while some having almost a thug or tough guy look to them. Their ages range from 19 to about their mid-20's. From lean and skinny to quite well built and muscular is how their physique could be described. Each model is an amateur, so their performances vary for each video. Some are quite shy and it takes them a while to get going, while some are more adventurous and don't have any issues with getting wild and even kinky. From straight out beating off to dildo ass fucking scenarios are what you can expect.

The men, the high quality content and most of the shoots are quite good at Drake Cameron. However, I have a few issues with the site. First, it would be nice to know when the latest updates came in. I can't find any dates on the content at all. Secondly, there could be more photos and digital stills and they could capture the action a bit better. If these issues could be worked on, Drake Cameron would be a very good site with excellent quality content featuring hot guys and smooth menu navigation. If you're willing to overlook these minor problems though, it might be fun to watch Drake Cameron grow.

Picture Samples
The below picture samples give you an idea about the style of the content and the looks of the models. The below pictures have been resized to fit into this page. Actual pictures are bigger. Click the thumbnails to see the larger versions. Larger versions will open in a new browser.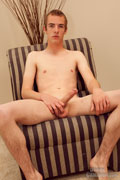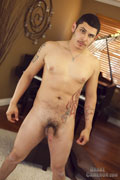 Videos
26+ video shoots
No
Yes
Flash, WMV, Quicktime, iPhone
1280x720, 1920X1080
Pictures
26+ photo sets
17 photos
Yes
Yes
1000x1500
Prices
$ 10.95 (recurring)
$ 19.95 (recurring)
Payment options: Credit Card, Bebit Card, SMS Billing, Online Check.
Discreetly billed by CCBill.
Additional Information