UK Scally Lads Review
Ranking
Price
$ 19.95
$ 49.95
Information
November.13, 2009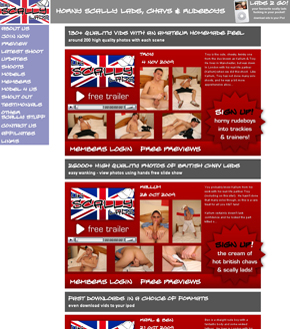 The Review
For those of you who don't know what a scally lad is, the term comes from "scallywag" and represents poor white trash who love to wear sporting gear in certain parts of England and the UK. UKScallyLads apparently are one of the few sites which offer genuine scallies. From kinky solo scenes to threesomes, the horny action is plentiful on this site. They are a fairly new site - officially going live as of early 2008 - but already boast a good sized library of videos and pictures. Let's see what else they offer through their tour.
The members area of UKScallyLads is a complete mirror of the tour. I love the fact that you are greeted by your first name in text once you log in. The main menu is to our left and is quite self explanatory. The most recent shoots are accessible via thumbnail links down the center of the page. Above this are numbered links at the top for getting to each shoot listing page. That is the gist of the members area inside UKScallyLads. It's simple and easy to follow. There is 1 ad in the bottom left hand corner as well as the top right hand corner of each page to order UKScallyLads iphone videos.

The models at UKScallyLads are exactly what UK'ers see on their streets - tough looking twinkish lads with bad attitudes who happen to dress in their favorite soccer team "kits" and like to drink and smoke. A lot of the boys are uncut being as they are of British descent. However, if you prefer your guys cut there are plenty of them here as well. The action inside UKScallyLads varies according to the shoot.

Some lads are alone and engage in dildo and vibrator fun, some piss play, and love to wank off. There's also a fair amount of duos and the occasional threesome as well to please those who love to watch horny chavs sucking and fucking away. Many of the lads like to sniff their smelly sneakers and socks and a few videos even contain some light bondage.

As of November 13, 2009 there are 136 full exclusive videos at UKScallyLads. All are downloadable with no DRM in place. They come in three formats as such: wmv at a bitrate of 1.8Mbps at 532x400, mp4 at 1.5Mbps at a resolution of 532x424 and avi at 532x400 at a bitrate of 3Mbps. The action is well caught in the videos and gives us some great closeups. I would put the quality at amateur to good.

On each video page there is a link to each shoot's photo gallery. They are viewable on the site at 427px × 640px for portraits and 640px × 427px. These are of slightly lower quality than the originals as they are scaled down to make for easier viewing on the site. However, zip files are available for downloading the original images. These come at a portrait size of 1024x1536 and 1536x1024 for landscapes. The photography is professional, captures the action well and is not too repetitive. The duo and threesome photo shoots were more interesting to me, but that could be a matter of personal taste. The image galleries average at about 160 pics per set.

UKScallyLads is a very nice no frills, easy to navigate site. Getting lost would be tough. Having been around just a year and a half now, they have steadily built up their library of content and continue to do so. They add 2 new shoots to their site each week and DRM is not in place for any of their videos. The quality is good, and you can download all of the pictures in their original size. UKScallyLads just recently made some design changes on their front page and the rumor is that many other changes will be made as well. UKScallyLads is worth the price they're asking for membership. Personally speaking, I can't see how hardcore scally lad lovers could go wrong signing up with them.

Picture Samples
The below picture samples give you an idea about the style of the content and the looks of the models. The below pictures have been resized to fit into this page. Actual pictures are bigger. Click the thumbnails to see the larger versions. Larger versions will open in a new browser.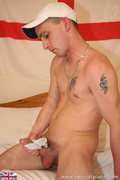 Videos
136+ video shoots
No
Yes
WMV, MP4, AVI
532x400, 532x424
Pictures
136+ photo sets
160 photos
Yes
Yes
427x640, 1536x1024
Prices
$ 19.95 (recurring at $ 17.95)
$ 27.95 (non-recurring)
$ 49.95 (non-recurring)
Payment options: Credit Card, Debit Card, Direct Pay.
Discreetly billed by CCBill.
Cheaper memberships available if paid with Direct Pay.
Additional Information