Fisting Central Review
Ranking
Price
$ 29.95
Information
February.19, 2010
The Review
Fisting Central has been around for a while now and is certainly the creme' de la creme' of hardcore gay handballing. There are very few sites which offer this type of content to begin with, but Fisting Central has cornered the market and then some. For those who love leather, gaping assholes and jaw-dropping forearm insertions, you may have just found your heaven. With 39 action packed videos and 220 action and solo photos, there's a good amount to watch inside Fisting Central. Members also get full access to 5 more exclusive gay porn sites on the same network.
Similar to the Fisting Central Tour, the main menu runs under the header as well inside the Members Area. Or what they call the "Members Arena". The latest scene is right underneath this with a link to either an embedded flash stream or a downloadable/streamable wmv. You may also get to the scene itself by a clickable thumbnail image. The date the update was added is not listed. Below the lastest update is a comment box where Members can say what they think of the action and/or models. Beneath this we get more links to the Latest Action Set and Latest Men, another comment box, the Most Popular Updates, 3 more Video Updates and the Bonus Site Updates. Under this is an advertisement for a discount for Raging Stallion DVDs and a banner for 33 percent off a Membership to another site on the same network - Bang Bang Boys. There is also a scrolling left sidebar featuring ads for other sites on the same network.

There are currently 39 full videos inside Fisting Central with each video being at least 50 minutes in length. Each video is viewable in either an embedded flash format at a resolution of 850x480 and excellent quality, or a Member can also stream or download each video in wmv at a resolution of 720x480 and at a bitrate of 1255kbps. However, DRM is in place for these videos. The videos are listed on two pages and can have the option of getting to each scene alphabetically, or by listing them by the oldest or newest scenes added.

There are 108 " Action Sets" and 112 "Solo Set" image galleries at Fisting Central as of this review date. Each gallery set page has 20 thumbnail links to each particular gallery as well as a rating system underneath each link. Each gallery contains anywhere from 20 to 50 pics at very good quality. Portraits run at a size of 540x720px and landscapes at 720x540px. Members may either view each gallery in a typical thumbnail format or a flash slideshow. Images are downloadable via right clicking and "saving as", but there are no zip files available.

As you might imagine, the men at Fisting Central are all masculine, rugged looking hunks. Most are hairy and all have sensational bodies and look damn good in leather. Fisting is not for the faint of heart as we all know, so these guys are hardcore and show us that fact several times over with each and every episode. It's fisting man! Slings, chaps, greased up assholes and the gloved hands who fuck them. Although, there is still a fair amount of cocksucking and fucking with cocks to be had. Of course, being as these bottoms are usually hungry for more than just a cock, they all end up with a fist and/or forearm buried up their insatiable holes.

For hardcore fisting fans there really aren't many options for good sites in the gay porn world. It is a sad fact I'm afraid. While there are a few negative things about Fisting Central like DRM in place for their downloadable videos, the flash streaming option offers up excellent quality. The images are crystal clear and capture the action quite well and sometimes even better than the videos. With a Membership to Fisting Central, you also get full access to 5 more exclusive gay porn sites: Hot Barebacking, Rear Stable, Twinks, High Octane and SexGaymes. All are set up in exactly the same way as Fisting Central and all have completely exclusive content as well. Looking at the entire package one gets with a membership here, as well as the how well all the action is captured, I do believe this is a good gay porn package deal.

Picture Samples
The below picture samples give you an idea about the style of the content and the looks of the models. The below pictures have been resized to fit into this page. Actual pictures are bigger. Click the thumbnails to see the larger versions. Larger versions will open in a new browser.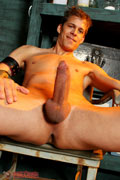 Videos
39+ video shoots
Yes
Yes
Windows Media Player, Flash
720x480, 850x480
Pictures
220+ photo sets
35 photos
No
Yes
540x720
Prices
$ 29.95 (recurring)
$ 69.95 (recurring)
$ 149.00 (non-recurring)
Payment options: Credit Card, Online Check, Phone Billing, Postal Mail.
Discreetly billed by Epoch.
Additional Information